This was my great-grandmother's recipe. We've never had a Thanksgiving or a Christmas dinner without this.
Directions
Grind cranberries, oranges, rind and fold in the sugar.
Make the Jello with 1/2 the water it calls for. Stir quickly until dissolved.
Add to the cranberry mixture, add nuts.
Refrigerate overnight.
Reviews
Most Helpful
Decided not to "cheat" and get it at the deli. I'm so glad we tried this! Very refreshing with a good balance of flavors. We tried chopping the orange in my mini food processor. That didn't work so well. It was much better when I did it by hand with a knife. Next time, I'll zest a whole orange into the mixture instead of using the rind. The pith (white part of the rind) added a hint of bitterness that you could taste at times. And it serves WAY more than 8! Easily 12-16 unless you take huge portions. We thought it might be good with some chopped apple in it too.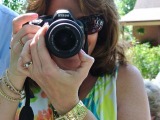 I cut this recipe in half to serve 2 & that worked out well enough! Using a large orange & the zest from half of it, I diced the fruits quite small! I enjoyed this kind of salad & might just keep it as a winter holiday item for anyone who might not go for the usual cranberry sauce! [Tagged, made & reviewed for one of my adoptees in the current Pick-A-Chef]
Thanksgiving Tips & Ideas >