Cranberry Orange Quick Bread (Five Roses Flour - 1967)
Derf2440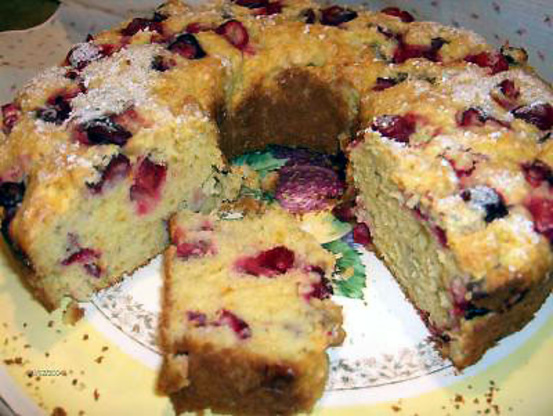 A Christmas tradition around our house, it goes quickly and I end up making it several times over the season, especially good toasted regular or under the broiler with a little cheddar sprinkled over.

Excellent Recipe! So rich and delicious! I was so anxious to make this because it looked so yummy that I skipped over reading reviews! I originally took out dried cranberries, then by looking at pic#1 posted by Derf I saw they used fresh cranberries~ so glad I had them hanging in freezer! I placed in a loaf pan and baked 10 minutes less because I didn't think the batter was enough for my bundt pan. Other poster recommended doubling batch and then baking in a bundt pan~ I should of read this first. Also, since this is a KEEPER---I will add about 1/2 cup more cranberries as well as add chopped walnuts in the future~~just personal preference. THANKS for posting DERF!!!
Stir flour, sugar, baking powder, baking soda and salt together.
Cut in butter until mixture resembles coarse cornmeal.
Combine orange juice and grated rind with well beaten eggs.
Pour all at once into dry ingredients, mixing just enough to dampen.
Dust chopped cranberries and cherries with a tablespoon of flour, carefully fold into batter Spoon into a well buttered 1 1/2 quart casserole.
Sprinkle a few floured whole cranberries over top of batter.
Bake in a moderate oven,350 degrees about 1 hour or until toothpick inserted in centre comes out clean.
Cool in casserole 10 minutes, then remove.
Store overnight for easy slicing.
Frost with confectioner's frosting, (sift 2 cups icing sugar, very slowly add boiling water, a tablespoon at a time, until right spreading consistency, spread on slightly cooled bread).
Also delicious sliced with butter or toasted under broiler, spread with butter and sprinkled with cheddar.