CoffeeB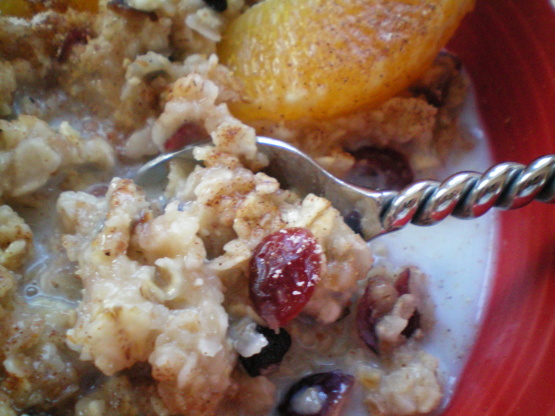 A very nice change to the standard cinnamon oatmeal. The original recipe called for walnuts but I enjoy almonds instead. Ready in 15 minutes!

Made this today for lunch....only I used steel cut oats as that is what we prefer. I also used 2 fresh mandarin oranges in place of the caned. I love the flavor of the cut up oranges and cranberries added to the oats. However; I found that the orange juice made the oats a bit slimy. This could be do to the fact that steel cut oats have to cook much longer. I think the next time I make this recipe I will omit the orange juice and use fresh grated orange zest instead. Thanks for sharing this recipe Hokie. Made and reviewed for the Feb.-Mar./Special Event 2010 Potluck Tag Game.
In a large saucepan, bring the water and orange juice concentrate to a boil.
Stir in the oats and cranberries, return to a low-boil; cook and stir for 2 minutes.
Remove from heat and add mandarin oranges, brown sugar, cinnamon and nuts.