Krsi Sue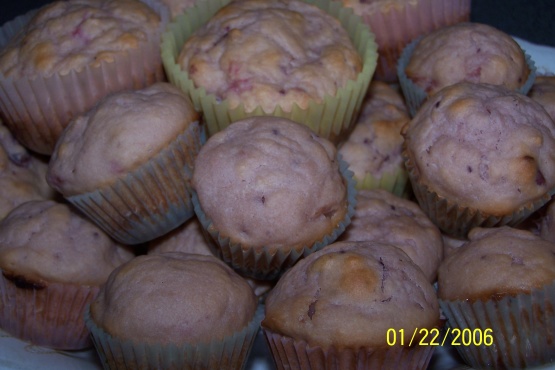 These are great to use up leftover cranberry sauce, but I also buy canned to make them.

I loved these very easy to make muffins and will definately make them often! I doubled the recipie so I could use the whole can of whole cranberry sauce,I used diluted sour cream in place of buttermilk because that is what I had on hand.I baked them for 20 min.@ 375 and that was a perfect temp. for my oven.I got 24 muffins and I used an oiled icecream scoop which makes them a uniform size.Thanks so much for posting ...they are yummy!
Stir oil and sugar together until well mixed.
Beat in the egg and orange zest.
Stir in the cranberry sauce (canned or homemade) and milk.
In a separate bowl, mix together flour, salt, baking soda and baking powder.
Stir dry ingredients into wet, mixing just enough to moisten.
Fill paper lined muffin cups half full and bake at 400°F for 20-25 minutes.
(Note: If you have no buttermilk, substitute by putting 1 1/2 teaspoons of vinegar in a measuring cup and filling to the 3/4 cup mark with regular milk).