Praxis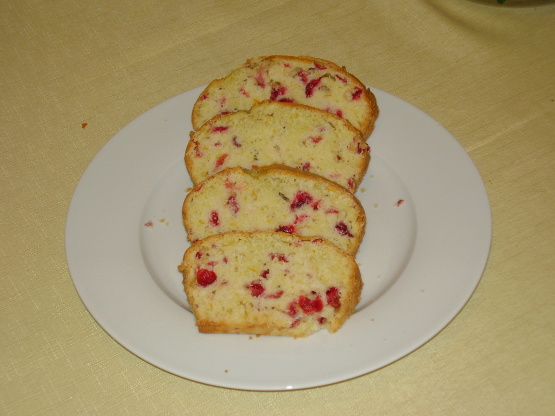 A great loaf to make, I have made this recipe alot, and have used raisins, raspberries ( it's really good with the raspberries) and it sure make's your kitchen smell nice.

Yes, the kitchen smells nice. Yes, it's a great loaf to make. It turned out perfect and tasted even better! I used dried cranberries and will try it with raisins next time. It probably would be nice with other fresh or dried fruit too. A very versatile recipe. Made only one little change from the directions. Did not grease my loaf pan but put in parchment paper instead. Easy to lift out the cake after baking and easy to peel off, just a personal (lazy) preference. This is very much a keeper. Thanks for posting.
Grate rind from orange, squeeze juice into liquid measure, add enough water to make 3/4 cup.
Set aside.
In large bowl, whisk flour, sugar, baking powder, baking soda, salt and orange rind; stir in cranberries.
In small bowl, whisk together egg, butter and orange juice; stir into flour mixture just until blended.
Spread in greased 9x5 Loaf pan.
Bake in centre of 350F oven for 50 to 60 minutes or until cake tester inserted in centre comes out clean.
Let cool in pan for 10 minutes, turn out onto rack and let cool completely.
(Make-ahead, store at room temperature for up to 2 days or over-wrap with heavy-duty foil and freeze for up to 2 weeks.).