Cranberry-Orange Juice Slushee
PaulaG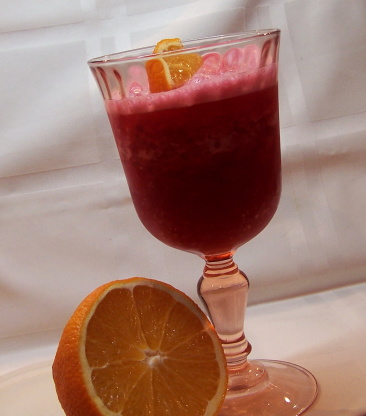 This is great for breakfast when you don't have time to prepare a meal, or it is great along side a meal. I've even made it for a pick-me-up any old time.
Top Review by PaulaG
Made this to sever alongside breakfast this morning. It is a refreshing drink with just the right amount of tartness. I used Splenda in place of the sugar. After preparing the juice I placed in the refrigerator overnight and then the in the morning instead of allowing it to chill in the freezer, I put the juice in my Vita-Mix along with several ice cubes and mixed for a well chilled slushee.
Cook cranberries and water until skins pop open, about 5 minutes.
Strain through cheesecloth. Bring juice to a boil and add sugar and cloves. Cook for 2 minutes; cool.
Add orange juice and lemon or lime juice. Chill thoroughly in freezer in desired glass.
Garnish with fresh orange slices, if desired.