Cranberry-Orange Buttermilk Scones
Maito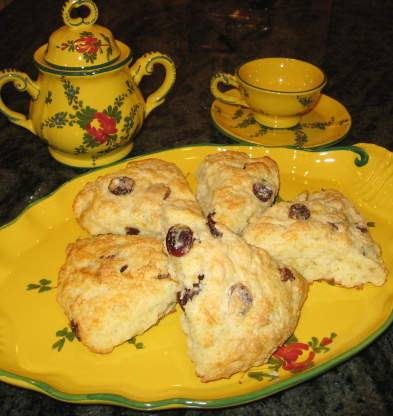 I couldn't find this exact recipe posted, so I am posting ANOTHER cranberry scone recipe. :) My mom makes these and they always turn out moist and flaky. They are especially good if you use dried cranberries that are flavored with orange (I found them at Trader Joe's). Since I don't usually have buttermilk on hand, I combine 1 Tbsp. lemon juice plus enough milk to equal one cup and let it curdle while I am mixing the dry ingredients.

This recipe is Great. Made them for my church supper and they eat them up. Also tried with 1 cup coconut in place of canberries and orange. put coconut on top. and a little powered suger glaze. I used my mellon baller and they cooked up Great in about 15 min. Going to have a English Tea and will make these again. Gonna try Lemon and poppy seed. Got to try this user friendly recipe. Enjoy!
In a bowl, combine the flour, 1/3 cup sugar, baking powder, salt, and baking soda.
Cut in butter till crumbly.
Stir in buttermilk gently until just combined.
Fold in cranberries and orange peel.
Turn onto a floured surface and divide into two balls.
Pat each ball into a six inch circle and place on a lightly greased baking sheet.
Cut each into six wedges, leaving them together on the pan.
Brush with milk, then sprinkle on the sugar combined with the cinnamon.
Bake in a 400 degree oven for 15-20 minutes or until golden brown.
You can also cut them into circles with a round cookie cutter, but the baking time will be less if you place them on the baking sheet not touching each other.