Diana 2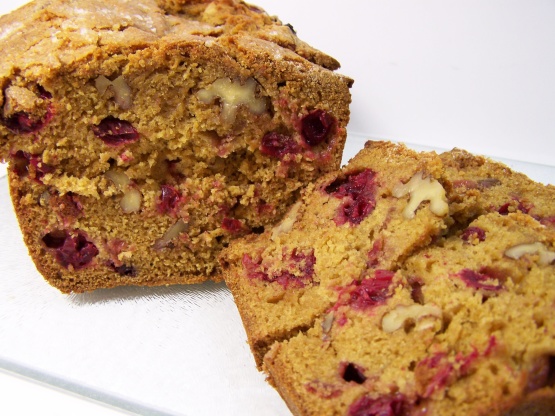 This is an adaptation of my own. The addition of the molasses gives the bread a nice color and adds to the moisture.

Not bad at all, though the molasses sort of changed the nature of this bread. But it tastes good, (even better on Day 2). If you prefer straight up cranberry & walnut, however, you might just lose the molasses & pumpkin spice, add a TBLS or two of water and call it a day. The rest of the recipe is pretty classic. (I don't like too much sugar, so 1/2 C white sugar and 1/4 C brown sugar works for me.)
Preheat oven to 350°F.
Grease loaf pan very well (cooking spray works best).
Sift the first 6 dry ingredients in a large bowl.
In a smaller bowl combine the next 6 'wet' ingredients.
Stir the wet ingredients into the dry ingredients to incorporate.
Then fold in the cranberries and nuts.
The dough should be fairly stiff but not dry.
If it is too dry, add another tablespoon of water.
Turn into loaf pan and spread evenly.
Sprinkle top of loaf with sugar to coat.
Bake at 350°F for about 50 minutes or until cake tester comes out clean.
When done, turn immediately out onto cooling rack.
Allow to cool about an hour before cutting.
Terrific warm with butter!