Cranberry Orange Bran Muffins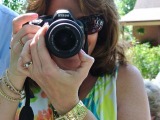 A tasty way to get your fiber! I also plan on trying them with all orange juice in place of the milk.
Directions
Combine dry ingredients in a large bowl.
In a separate bowl, squeeze orange juice from orange(s) and combine with enough low-fat milk to make 2 cups total. Add zest from orange(s). Mix in applesauce, vanilla and eggs. Add wet ingredient mixture to dry ingredients and mix well by hand. Stir in cranberries.
Divide between muffin tins, and bake at 350°F for 18-20 minutes.