Cranberry Oatmeal Bar Cookies
milliwuu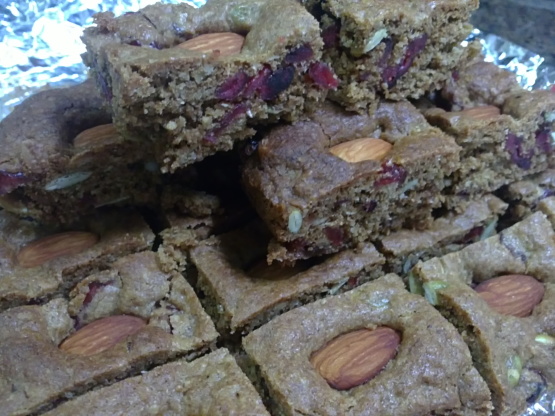 I always make this with cranberries but it could be made with almost any dried fruit. I adapted this recipe from a recipe in a mystery book by Joanne Fluke. This recipe can be doubled to make a 9 x 13 inch pan of cookies.

Delicious bars. I make them in a square muffin pan using 1/2 cup applesauce for half the butter, dried apricots, raisins, walnuts and my favorite part frozen FRESH chopped cranberries. I double the recipe and it makes 24 bars. They are even better after freezing.
Preheat oven to 350 degrees, rack in the middle position.
Melt butter in a large microwave safe bowl.
Add both sugars and let cool a bit.
Add eggs, baking powder, baking soda, salt, cinnamon, nutmeg, and vanilla.
Add flour and mix.
Add the cranberries and oats and mix everything up. The dough will be quite stiff.
With a spatula spread dough evenly into a greased 8x8 baking pan.
Bake at 350 for 25– 30 minutes.
Cut into bars when cool.
These freeze well if you roll them in foil and put them in a freezer bag.