Megohm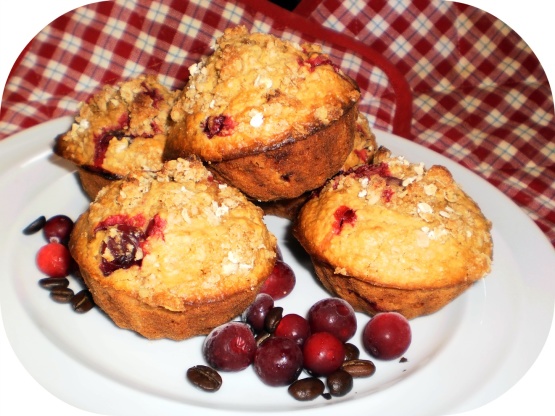 These aren't heinously spongy like most oatmeal muffins, and they actually have respectable mushroom-y muffin tops. You could always change up the berries in this, if you want. I love these!

delicious! The rich sweet molasses flavor provides an excellent contrast to the tartness of the berries. I thought about skipping the topping and I'm glad I didn't, because it lends a wonderful crunch. I used coconut oil in place of vegetable oil, and vanilla coconut milk in place of the regular milk. I'm looking forward to breakfast tomorrow, so I can eat another one of these muffins!
Preheat oven to 400 degrees F., and grease muffin tins or line with papers.
Mix all dry ingredients in a large bowl, then stir in cranberries to coat with flour.
Mix all wet ingredients.
Add wet to dry, stir just until all the dry ingredients are moistened.
Mix crumb ingredients with fingers.
Drop into muffin tins, sprinkle each with a little of the crumb mixture, bake 15-20 minutes, until they test clean with a toothpick and spring back when touched.