chia2160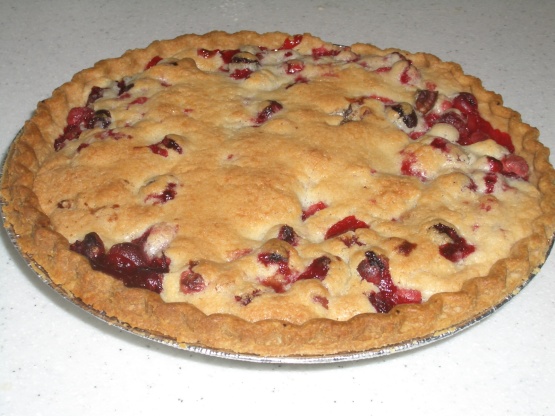 This pie has become a holiday tradition for us. It has a nice tangy/sweet taste, and it is great with whipped cream. It's also pretty easy as pies go.

Top Review by Ms B.
This flavor of this pie is similar to that of a tart cherry pie. The brown sugar soothes some of the tang of the cranberries. The nuts add a nice texture to the pie. I served this warm with a scoop of French Vanilla ice cream. Yum! I will definately be adding this to my holiday dessert list.
Preheat oven to 375°F.
Prepare pie crust in pie and crimp the edges.
In a large bowl combine cranberries, brown sugar, nuts, 3 T.
flour, and cinnamon.
Spoon cranberry mixture into pie shell.
Beat egg until thick.
Gradually add sugar and beat well.
Beat in 1/2 cup flour and butter.
Pour butter mixture over cranberry mixture in pie crust.
Cover crust edges with foil and bake for 20-25 minutes.
Remove foil and bake for 20-25 additional minutes.