Rita1652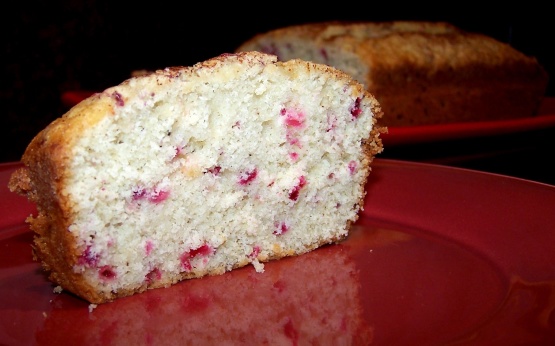 Delicious cranberry muffins are wonderful on cold mornings when cranberries are in season. Recipe source: church cookbook.

Your recipe for cranberry muffins is just great! The muffins are wonderfully tasty & addicting, to say the least, but then we love cranberries, & I have now stocked my freezer with a lot of bag of 'em to last me through the year! Will certainly make these again! Thanks for posting the recipe! [Made & reviewed in I Recommend recipe tag]
Preheat oven to 375 degrees F.
Prepare muffin tins by lining with paper of greasing muffin cups.
Place vanilla bean pieces and sugar in a food processor or blender and process until vanila beans is ground into tiny brown flecks.
In a large mixing bowl cream vanilla sugar and butter until smooth.
Add eggs, one at a time, beating well after each addition.
In seperate bowl combine dry ingredients.
Add dry ingredients to batter alternately with milk, mixing well.
Fold in cranberries.
Spoon batter into muffin cups.
Mix sugar and nutmeg together in small cup and sprinkle over muffins.
Bake for 25-35 minutes or until lightly brown.