gailanng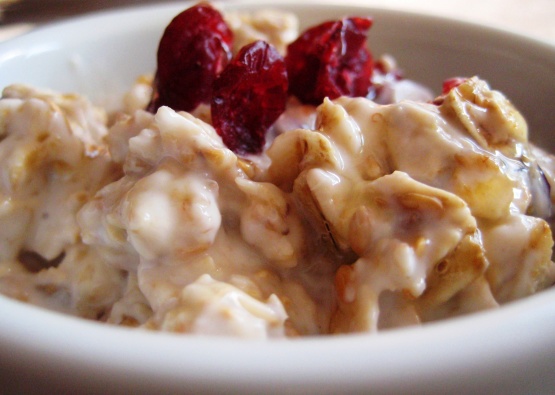 From EatingWell Magazine (2007), there may be as many versions of muesli as there are breakfast cereals, but this one's modeled after the original Swiss wake-you-up -- a combination of overnight-soaked grains, nuts, dried fruit and yogurt. Make it the night before and you'll have breakfast ready when you are.

Granted, I used flavored yogurt, dropped the honey and vanilla and dried cherries instead of cranberries, so I barely followed the recipe. However, i just think this isn't my thing, I think I didn't care for the consistency of the oats. Not bad, but not really great. The recipe however, did work as advertised. If you do like it, it's a great grab and go breakfast.
Combine yogurt, juice, oats, cranberries, sunflower seeds, wheat germ (or flax seed), honey, vanilla and salt in a medium bowl; cover and refrigerate for at least 8 hours and up to 1 day.