Joyd9060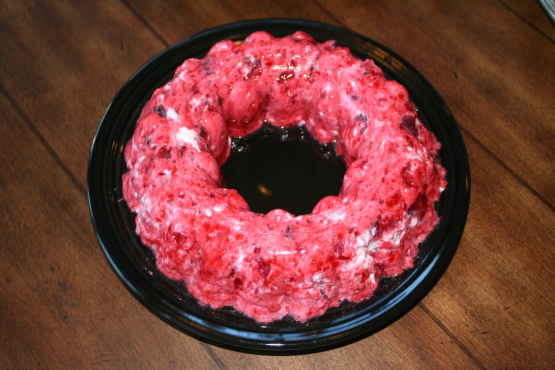 We usually have this just at Thanksgiving, but if you like cranberry sauce. Is great for Picnics & social gathering !

My family and I enjoyed this as part of a holiday meal today. Its cheerful color and refreshing flavor provide a nice accent to a meal. I used 1 cup well-drained finely cut canned pineapple, instead of crushed pineapple, which seemed to work fine. The sour cream was a little hard to stir it in. Next time I think I'll try whipping it first. Thank you for a good recipe, Poker.
Dissolve, gelatin in boiling water,stir in pineapple,Chill until partially set.
Fold in cranberry sauce.
Spoon into a 8x8x2 inch pan.
Spoon sour cream on top.
Stir through to marble, chill until firm.