Cranberry Maple Nut Scones
Kree6528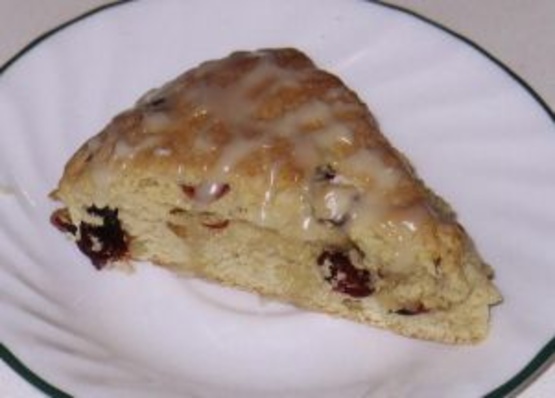 This is posted in response to a request. It's a simple scone recipe using Bisquick mix! I've also made these using reduced fat Bisquick, soy milk, and Egg Beaters and they still tasted terrific!

These scones are so good and very easy to make. I made this following Kree's directions exactly but had to bake an extra 10 minutes to get the scones golden brown (was probably my oven's fault). Thanks Kree, my husband and I really enjoyed these for our morning coffee break.
Heat oven to 425ºF.
Grease cookie sheet.
Mix all ingredients except Maple Glaze until soft dough forms.
Turn dough onto surface dusted with Bisquick; roll in Bisquick to coat.
Shape into ball; knead 10 times.
Pat dough into 8-inch circle on cookie sheet (if dough is sticky, dip fingers in Bisquick).
Cut into 8 wedges but do not separate.
Bake 11 to 13 minutes or until golden brown (I find I need at least 13 minutes in my oven or the insides are still gooey).
Carefully separate wedges.
To make glaze, beat all glaze ingredients until smooth.
Drizzle scones with glaze.
Serve warm.