momaphet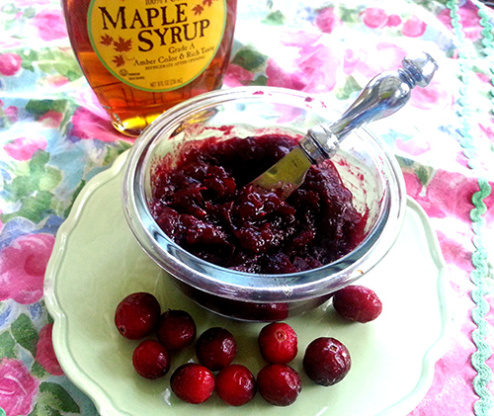 A Cooking Light recipe which stores in the refrigerator up to 2 months in an air-tight container. No butter in this recipe!
I really enjoyed how this recipe turned out. It was simple to make and it has a nice full flavor. The maple syrup adds just enough sweetness without being too sweet or too mapley. I reduce the brown sugar by 1 TBLS since I like things a little tart. The cinnamon and vanilla are very complimentary to the fruit flavor. I was tasting this on its own and can't wait to try it on scones or biscuits. Though it's almost 90 outside this just said Fall to me and I look forward to making it again in a couple of months.! I cut the recipe in have and used fresh frozen cranberries. Made for the 2015 Culinary Quest Quebec's Maple Sugar Shack Challenge for the Toasted Tourists. Thanks for sharing your delicious recipe!
Combine the water and cranberries in a large saucepan or Dutch oven. Bring to a boil; cover, reduce heat, and simmer for 5 minutes or until cranberries pop. Place cranberry mixture in a blender or food processor, and process until smooth.
Combine cranberry mixture, maple syrup, sugar, and cinnamon in pan; bring to a boil. Reduce heat ; simmer, uncovered 25 minutes or until mixture is thick, stirring frequently. Stir in vanilla. Cool. Store in refrigerator up to 2 months.