marylef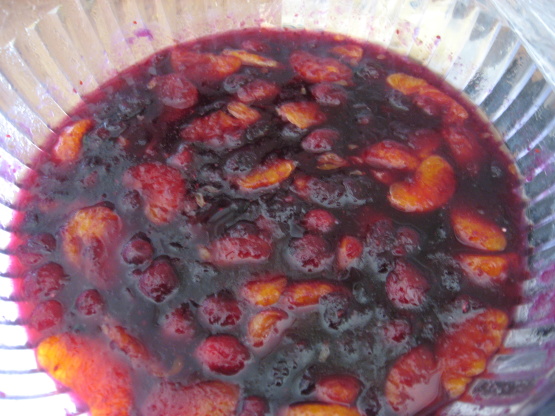 I saw this recipe on our local news around Thanksgiving a few years ago, and had to try it...it is delicious! I included chill time in cook time.

I love all kinds of cranberry sauces, & this one is right in there, what with the inclusion of mandarin oranges & ginger ~ Really, really tasty that way! This recipe is very much a keeper in my book & I look forward to making this 'salad' again! Thanks for sharing the recipe! [Tagged, made & reviewed as part of my theme ~ Sassy Sauces! ~ in the current My 3 Chefs event]
In saucepan, place 3/4 bag of cranberries over medium/high heat.
Add in liquid from mandarin oranges, grate in ginger & orange zest, & add sugar.
When it starts to thicken, mash mixture until all berries are broken.
Add remainder of cranberries & cook until they start to crack.
Remove from heat, stir in mandarin oranges.
Chill & serve.