Cranberry Liqueur (Light)
gailanng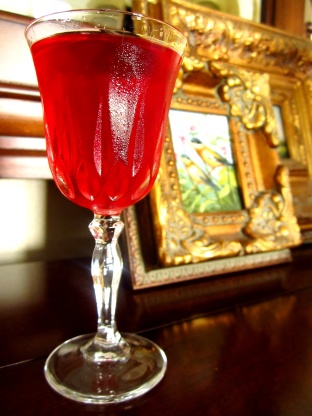 I have made this for Christmas and also for Summer parties - it is delicious! It keeps in the fridge for up to a year (as I am writing this, I am having a sip of my liqueur I prepared for Easter - and it is still as good (if not better)!! I got this recipe from a Cooking light magazine.

I gave this a try, since it looked and sounded so yummy. It lived up to it's reputation! I thoroughly enjoyed sharing it at a birthday celebration with friends. Everyone who tried it thought it was delicious! I loved it with 1/2 gingerale and 1/2 club soda, but it was wonderful on it's own as well. Thanks for posting, I'll be making this one again and again!
Combine sugar and water in a medium saucepan; cook over medium heat 5 minutes or until sugar dissolves, stirring constantly. Remove from heat, and cool completely.
Place cranberries in a food processor; process 2 minutes or until finely chopped. Combine sugar mixture and cranberries in a large bowl; stir in vodka.
Pour the vodka mixture into clean jars; secure with lids. Let stand 3 weeks in a cool, dark place, shaking every other day.
Strain the cranberry mixture through a cheesecloth-lined sieve into a bowl, and discard solids. Carefully pour liqueur into clean bottles or jars.
Note: Liqueur can be stored refrigerated or at room temperature for up to a year.