Cranberry Lime Pistachio Shortbread Cookies
harasp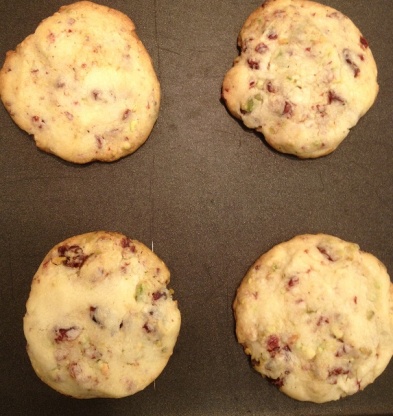 I got this recipe at a Vegan baking class recently. (I've made a few modifications, so it's not exactly the same.) These cookies are melt-in-your mouth sweet and salty and crunchy--I love them! **Update: I've recently discovered that these are also stellar if you substitute chopped dried mango for the cranberry.**
Preheat oven to 350°F.
Line baking sheets with parchment paper.
Using a mixer, cream margarine and sugar. Add flour till dough forms.
Stir in cranberries, pistachios, zest, and juice.
Let dough rest in fridge for a few minutes. To form cookies, roll 1 tablespoons dough into a ball, then flatten. Place on cookie sheet.
Bake cookies for 11 minutes or till the bottoms are just turning golden and the tops look dry-ish. Cool on wire racks.