Boomette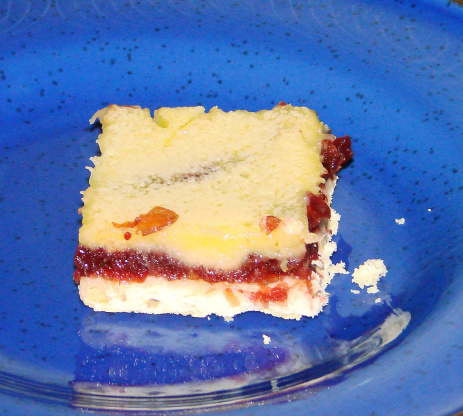 This cranberry dessert is the result of slightly tweaking a great recipe found in The Joy of Cranberries: The Tangy Red Treat by Theresa Millang, & features a great combination of lemon & cranberry! Preparation time does not include time needed to cool & chill.
I like cranberry recipes but this one, I would have preferred to have more lemon flavor than cranberries. For the lemon topping I used only 1/2 cup sugar. I used the lemon zest that was optional. Next time I'll put parchment paper in the pan because it was a hard to take out a good square out of the pan. Thanks Syd :) Made for PRMR tag game
Preheat oven to 325 degrees F, then grease or butter an 8 inch baking pan.
FOR CRANBERRY FILLING ~ In a small saucepan, bring cranberries & water to a boil.
Redice heat & cook, stirring often, about 25 minutes or until water is absorbed.
Coarsely chop cranberries, then set aside.
FOR BOTTOM CRUST ~ In a mixing bowl, whisk together powdered sugar & 3/4 cup flour, then cut in the butter until pea-size lumps are formed.
Press mixture into prepared 8 inch baking pan & bake about 20 minutes or until golden.
Cool on wire rack.
FOR LEMON TOPPING ~ In a small mixing bowl beat eggs & granulated sugar until smooth, then mix in vanilla, lemon juice & zest.
Add 1/4 cup all-purpose flour & beat until combined.
Reduce oven heat to 300 degrees F.
Spread cranberry mixture over baked crust, then pour lemon mixture over cranberry layer.
Bake about 40 minutes or until set, then remove from oven.
Cool in pan on wire rack.
Refrigerate, chilling well before cutting into squares. Store in refrigerator.