Cranberry Jalapeno Chutney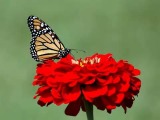 This recipe makes 1 cup only and can be stored in the refrigerator. The recipes states that this chutney is good on leftover turkey sandwiches. Haven't tried it yet; however, I plan to make it for the holidays -- those turkey sandwiches sound so good.
Directions
In a medium bowl, combine all ingredients and mix well. Refrigerate, covered. Serve cold or at room temperature. Works well on leftover turkey sandwiches.
Reviews
Most Helpful
This sauce will add great zip to your dinner. I served this along with regular homemade cranberry sauce, and jalapeno version was gone in a flash. This is the only way to fly as far as I'm concerned. This would be wonderful served with pork as well. I made it with homemade sauce, pickled jalapeno slices and dried minced onions. Fantastic recipe Nancy...thanks for sharing. Made for Fall PAC 2011.

LOVED the sweet and the heat. OMGoodness! I made this to go on my turkey sandwich for lunch today. I also used some as a dip for cinnamon pita chips. Thanks for this recipe.