Cranberry Ham & Cheese Appetizers (Or Wraps)
2Bleu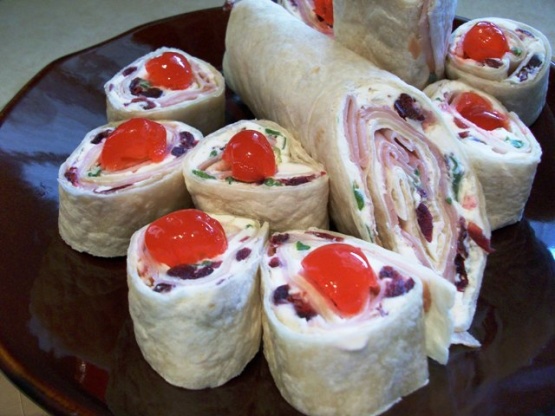 Although these are colorful for the yuletide holidays, they are so easy to make, you can have them year round. You can also serve them as 2 individual wraps which are great for lunch on the go, sweet snack (cranberries) included! 1 wrap has about 300 calories. Enjoy.

This time around I made these as a lunch time wrap & they were wonderful! And, although I did leave out the cherries & used 2 large, soft, flour tortillas! And, although I intend to make them as appetizers for one of the monthly groups I host (soon) I'm also looking forward to making them in the spinach tortillas & the whole works during the end-of-the-year holidays! Absolutely great! Thanks for posting the recipe! [Tagged & made in Please Review My Recipe]
To tortillas, spread cream cheese all the way around to edges. Sprinkle with cranberries, and chopped green onion. Lay ham slices to cover top.
Roll up tightly, wrap in plastic and refrigerate at least one hour.
Eat as wraps or to make pinwheels: Trim off the very ends of each log, then slice each log into 8 slices and lay flat. Place a half cherry (if using) onto the center of each pinwheel. Arrange decoratively onto a serving platter.