Feej3940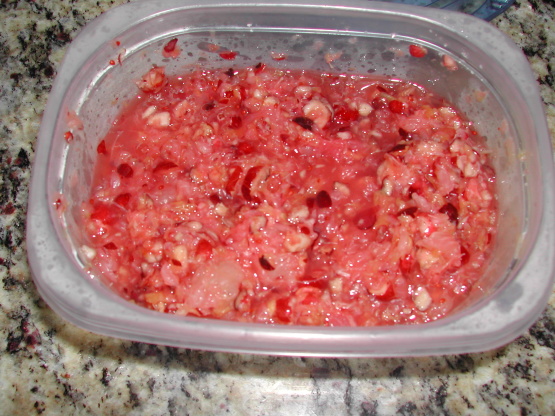 This uncooked cranberry relish is very refreshing with a unique ginger-citrus flavour.

This recipe was a hit from those that don't even like cranberries (myself included) The grapefruit really helped to give it a change of flavor. Since I don't have a food processor, I cooked the cranberries till they popped, then just whisked them in with the rest of the ingredients. Worked perfectly.
With a zester or a grater, remove the zest from the grapefruit and the tangerine; set aside.
Peel the 2 fruits and cut into segments, removing all pith, seeds and membranes.
Transfer to a food processor and swirl around until finely chopped; place in a large bowl.
Add the cranberries (no need to thaw if frozen) and ginger to food processor and pulse until chopped; be careful not to overprocess.
Add cranberry-ginger mixture to citrus fruit in bowl and stir in sugar, lime juice and zest; stir until sugar is dissolved.
Taste and add more sugar if you feel it's necessary.
Refrigerate for at least 2 hours to let flavours blend; keeps well for about 2 weeks.
Makes just over 2 cups.