Thorsten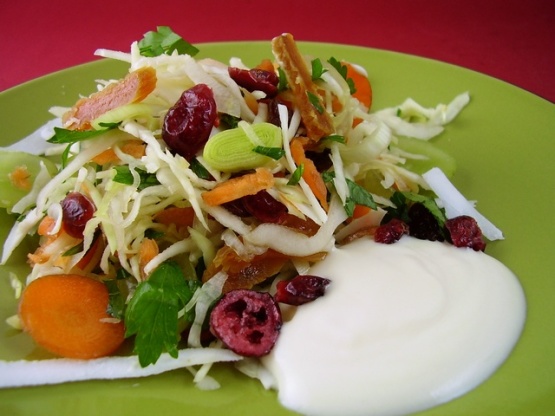 This is one of our families favorites and it is requested for the family get togethers throughout the year. It is bright, colorful, easy to make and since it uses low fat ingredients guilt free. The recipe was adapted from one served at the Kimbell Museum in Fort Worth Texas.

I made this when visiting family and it was a big hit. I couldn't find straight raspberry vinegar so I bought raspberry basalmic vinegar and it seemed to work just fine. Serve the salad with Halibut Florentine which was fantastic. Here's the recipe link: http://www.food.com/recipe/halibut-florentine-216171. I also posted your recipe on a Foodies on Facebook group I belong to and have had positive reponses to it. I linked it back to here so you would get the credit. Thanks for posting this.
Note: Sometimes certain heads of cabbage are a little bitter, I taste and add a teaspoon or two of sugar if needed; The dried fruit& coconut usually provide enough sweetness to this salad.
Mix all vegetables& fruit in a large bowl.
Mix the dressing ingredients& pour over.
Chill at least 30 minutes& stir before serving.