Cranberry Fizz -Non-Alcoholic
Garnish with orange and lemon slices. Great party drink.
Directions
In large non-metal pitcher or punch bowl, combine cranberry, grapefruit and orange juices. Add sugar; blend well.
Just before serving, add ginger ale; stir gently.
Diet gingerale and sugar substitute can be used in place of regular ginger ale and sugar to reduce calories per serving.
Reviews
Most Helpful
This was amazing! Just perfect for a teetotaler like me! It disappeared really quickly and was so refreshing and tasty. Definitely making this again, will be perfect over Christmas!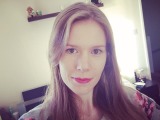 This punch was delicious! I made it without the sugar for an adult crowd and it was definitely sweet enough. I floated sliced oranges on top and the colors were perfect for fall. Tasty and beautiful!
This is a great drink! I make it often using diet ginger ale and it's always hit at parties! Thanks for posting!
Holiday Central >