Prep 15 mins
Cook 45 mins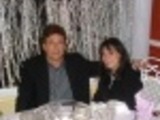 The perfect dessert for late fall, when fresh cranberries are plentiful. From Good Food Magazine October 1988
Directions
Heat oven to 400 degrees. Butter 9-inch square baking pan.
Prepare topping: Process flour, brown sugar, butter, and nutmeg in food processor until thoroughly blended. Transfer to small bowl.
Prepare cake: Put flour, sugar, baking powder, baking soda, cinnamon, and salt in food processor and process until mixed. Add butter and pulse jut until mixture resembles coarse crumbs.
Whisk buttermilk, eggs, and vanilla together in small bowl. Add to dry ingredients and process just until blended. Stir in cranberries by hand.
Pour batter into buttered pan and sprinkle crumb topping evenly over top.
Bake cake until wooden pick inserted in center comes out clean, about 45 minutes. Cool completely on wire rack.
Most Helpful
I want to say that this is getting 4 stars instead of 5 is because DH says that it needs more sugar. I think it could do with a tad less. So I split his 3 and my 5 ratings. I didn't want whole cranberries so I pulsed them 3-4 times after adding them. This is very easy and I love the food processor method. It comes out very light and fluffy and will be welcomed through the holidays.

What a wonderful flavor to this cake. The tartness of the cranberries with the sweetness of the sugars were Yummy and so very moist.....This cake was very quick to get ready for oven, being that the food processor is used. I too had pulsed the cranberries for a wee bit instead of putting them in whole. Had used a round pan instead of a square then sliced up to bring to my friends house for Thanksgiving. I did find there was way too much crumble topping though, so I didn't use it all. Will definitely be making this cake again. Thanks for sharing JackieOhNo! Everyone enjoyed it...