Prep 15 mins
Cook 45 mins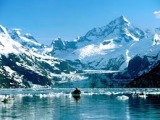 I asked my friend for this recipe after eating it at her house. Everyone loved it, which explains why it was gobbled up within an hour! It's pretty simple to put together and it comes out moist and delicious every time. I've never tried to bake this in a bundt pan but I bet it would work. I hope you enjoy!
Directions
With a mixer, using a large bowl, cream the butter.
Gradually add sugar. Beat until light and fluffy.
Add eggs, one at a time, beating well after each addition.
Mix in almond extract.
In a separate bowl, sift together the flour, baking powder and salt.
Alternate mixing in the flour mixture and sour cream until all blended together.
Pour batter into greased 9 x 13 cake pan. Spoon cranberry sauce over batter. Spread slightly but do not try to completely cover top of the batter.
Sprinkle with almonds.
Bake at 350 degrees for 35 to 40 minutes or until the cake pulls slightly away from the sides of the pan.
Meanwhile, blend the glaze ingredients.
Once the coffeecake is done, cool slightly and then drizzle the glaze over the top.
Most Helpful
Great with milk...God Bless America's Milk Cows! Made for A/NZ 35th Recipe Swap. (Used a springform pan and had to cook a little longer, but made a beautiful presentation.)

This is soooo sweet! Painfully so. I would cut back on the sugar. Keep the glaze...it is nice. Maybe the canned cranberry is sweeter than what I'm used to? I used an entire 16oz can. I wish I had spread it out more. The texture of the cake is DIVINE. It is delicious! Just too sweet. ;) I made it Thanksgiving morning & plan to make it again Christmas morning. :) Made for the 11/09 Aussie Swap. Thank you!
This is a very delicious and easy to make coffee cake. I used the 9 x 13 dish as directed. Had to use a little Greek yogurt (approximately 1/4 cup) as I didn't have enough sour cream on hand. I made one other change and just lightly sprinkled the cake with a little powdered sugar as we didn't want it too sweet.