Diana 2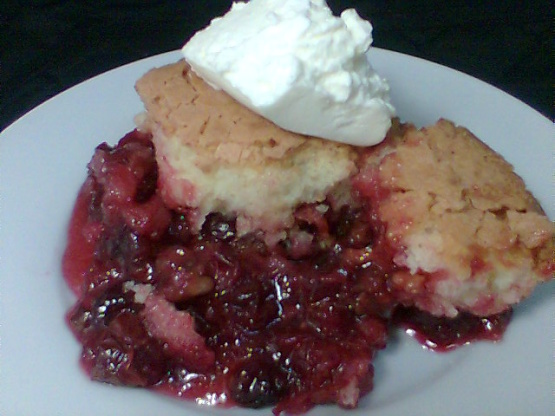 I've not tried this recipe, but it looks like something my Grandma used to make. I am thinking of trying it on Thanksgiving. Adapted from mrfood.com

I would use less sugar next time i bake this. I also think that using xylitol and/or stevia would make this much better. I enjoy tart cranberries & if you use whipped cream with no sugar, it would be great. We used cool whip topping & the recipes amount of sugar and therefore it was sweeter than i would like. I used a deep cast iron pot to bake this in the oven & it worked.
Preheat oven to 325°F Coat a 9" deep-dish pie plate with nonstick cooking spray then spread cranberries over the bottom. Sprinkle with 3/4 cup sugar and the walnuts; stir with a spoon until evenly combined then flatten mixture with the spoon.
In a large bowl, beat eggs until fluffy. Gradually add remaining 3/4 cup sugar then gradually add in the flour, mixing well. Slowly beat in butter until thoroughly combined and smooth then spread batter over cranberries.
Bake 55 minutes, or until entire crust is brown. Serve hot or cold.