Prep 10 mins
Cook 40 mins
From Anna Olson, Food Network
Make and share this Cranberry Clafouti recipe from Food.com.
4 cups cranberries (fresh or frozen)
3⁄4 cup sugar (1/4 cup plus 1/2 cup)
1⁄2 cup whipping cream
1⁄2 cup dry breadcrumbs
1 cup ground almonds
2 eggs
1 teaspoon lime zest
1 teaspoon vanilla extract
1⁄2 teaspoon almond extract
1⁄2 cup apricot jam, heated
Directions
Preheat oven to 400°F Toss cranberries with 1/4 cup sugar. Pour 1/2 cup of cranberries into 8 ramekins and place on a baking sheet.
In a food processor, blend remaining ingredients until smooth. Pour over cranberries and bake for 30 to 40 minutes, until top of gratin is an even golden brown colour.
Serve clafoutis warm, brushed with apricot jam.
Reviews
Most Helpful
This was as good as the picture! I love cranberries and this did not disappoint. My sons topped theirs with vanilla ice cream. DH and I ate it as is and felt it didn't need any embellishments. Thanks for posting.

We enjoyed this dish -- it was quite unique and different from other cobbler-type dishes I have made in the past. I am not sure if I made the recipe correctly; however, it did turn out just fine. The texture of the dish is much different than I am accustomed to, but we enjoyed the change. Made for the 1-2-3 tag, December, 2011.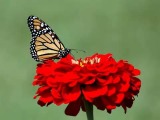 Really wasn't sure what I was doing tagging this recipe EXCEPT that I love cranberries, so... Anyway, this recipe came together so easily & the result, very tasty! A nice, & different approach to pie & cobbler! I topped this liberally with homemade apricot preserves! Really OUTSTANDING! [Tagged, made & reviewed in March Beverage Tag]