Cranberry Chocolate Oatmeal
sheepdoc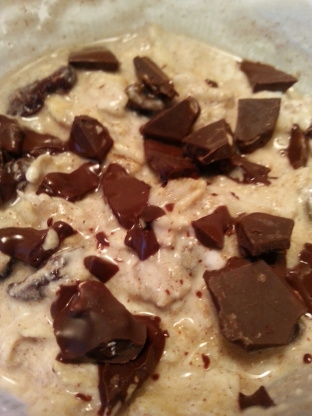 As I can't eat oats, I make this with rolled millet or buckwheat for me and with oats for DH. Millet requires 4 parts liquid for one part millet, so for oats use 1/2 cup and for millet 1 cup liquid. For dried fruit I use dried papaya but posted raisins because I doubt that dried papaya will be listed ;) You can try any dried fruit that floats your boat, though. Instead of soy milk you can use rice milk or normal milk and for almond butter try cashew or peanut butter.

Putting chocolate on top of an already perfectly good food is a trend I can really jump on. Very tasty. I used my cooking method of throwing everything in a bowl, pouring boiling water on, covering, and it's ready to eat when you get out of the shower. Made for cq 14.
Stir together soy milk, water, almond butter, cranberries, raisins and honey and bring to a boil.
Stir in oats, simmer until oats are done. While simmering, partly mash cranberries with the back of a spoon.
Stir in one dash (or more if desired) of cinnamon.
Fill into bowl and sprinkle with chopped dark chocolate (I use 85 %).
Enjoy!