loof751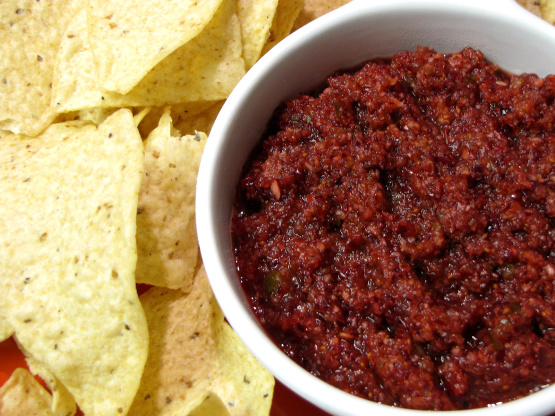 The original of this recipe was found in the Taste of Home, Simple & Delicious, Nov/Dec 2009 magazine. I have, however, slightly tweaked it!

What a great salsa for the holidays! I don't care for raw onions so left those out and added a little onion powder. This salsa has great flavor from the green chilis and cumin. As written it's not spicy at all; I processed half of the mixture with 8 or 10 slices of pickled jalapeno and that gave some nice heat that was great with the sweet/tart cranberry. Served this with tortilla chips, I think it would be great over cream cheese with crackers too. Thanks for sharing the recipe!
Put all the ingredients in a food processor, then cover & pulse just until blended.
Transfer to a serving bowl & chill before serving, with either tortilla chips of large corn scoops.