From an old issue of the Houston Chronicle. This is like a cobbler or crisp but with cranberries - yum!
Directions
Spray a 2-quart casserole with cooking spray. Chop the apples (unpeeled). Put apples, cranberries and sugar in the casserole and combine.
In a medium bowl combine oats, brown sugar, flour, pecans and margarine.
Top fruit mixture with oat mixture.
Bake at 350 degrees for 1 hour, until bubbly and light brown.
Great warm as a side dish or as dessert with vanilla ice cream!
Reviews
Most Helpful
I halved the recipe since it was just for DD & myself. I used half Splenda & half sugar to cut down on calories. Made for Zaar Stars Tag

We loved this crisp! Especially the crispy chewy topping. I halved the margarine and decreased the flour by 2 tablespoons. The second time I made this I made it only with the cranberries and baked it 15 minutes, then broiled it 2 more minutes. We decided that this is the best crisp we've ever had! Great served warm with low fat vanilla (or eggnog) ice cream.

This was a wonderful dessert -- I absolutely love cranberries and the mix of apples and cranberries was really nice. The only change I made was to reduce the amount of sugar; otherwise, I made as directed. Only one problem -- I forgot to buy ice cream to go along with it. : ) Actually, it was wonderful just as it is and I didn't miss the ice cream at all. : ) Made for PRMR, November, 2013.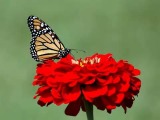 Thanksgiving Tips & Ideas >