Cranberry Butterscotch Squares
Chef Dee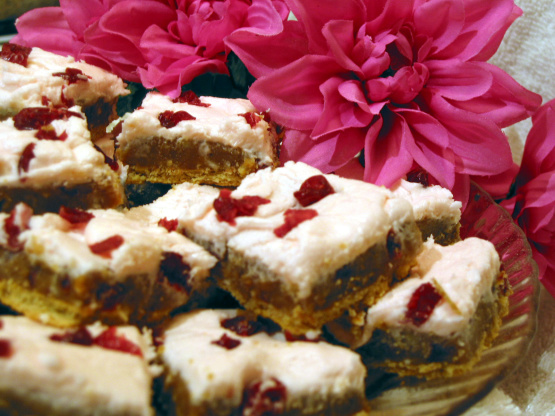 Such a pretty square for your Christmas tray. Traditional cranberries in an unbaked square, topped with pretty pink icing, garnished with dried cranberries. This makes a large amount, but go ahead, put the extras on a pretty pink or red plate and give as a gift.

I made these for a cookie exchange last Christmas, and I thought they tasted wonderful and were a unique treat. My family happily devoured the leftovers. I did notice some hesitancy from some of the guests. I think it was b/c of the pinkness of the icing which I thought was pretty, but next time I would not use the dye. Thanks!
Spray a 12 x 18 cookie sheet (with raised edges) with Pam, then line the graham crackers, you can break them by hand to fit, covering entire pan.
In a large pot, melt margarine ove med. high heat.
Add brown sugar and milk, boil for 3 min's.
Remove from heat, stir in vanilla, graham crumbs and dried cranberries.
Spoon over the graham crackers, chill until firm.
FROSTING:
Beat softend margarine with milk and almond extract.
Add the icing sugar and beat until smooth.
You may add more milk or icing sugar, mixture should be firm, but soft enough to spread.
Beat in 1 - 2 drops of red food colouring, the frosting should be a pretty pink.
Frost the squares, dot with dried cranberries.
Chill, then cut 8 down and 12 across.