flower7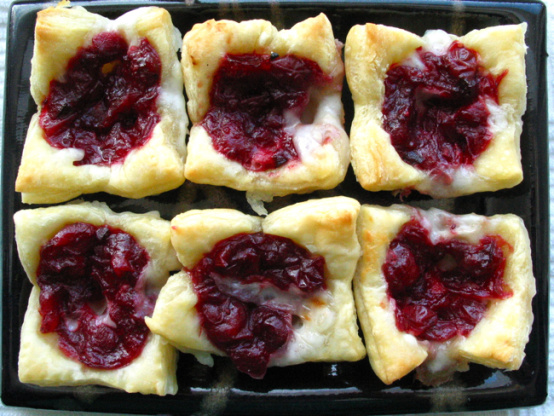 These are a fun appetizer and a much easier way to serve brie to a group. They are very versatile so you might want to try a brown sugar and walnut filling instead of the cranberry, or whatever is your preference!

These were FANTASTIC! They were simple to make and impressive enough that people thought I spent a lot of time on them! The people who were less-adventurous and had never had brie, were so surprised that they liked something new! Haha. After making them once as-is, I experimented with them some-- you can use the exact same recipe and substitute Lil' Smokies cut in half for the cranberry and they make an awesome savory bite. Another thing-- you can use Pillsbury croissants (in a can) if you can't find puff pastry!
Cut each sheet of puff pastry into 12 squares and place inside mini muffins cups. (You may want to lightly spray to ensure they won't stick). Try not to leave any part of the muffin cup uncovered by dough or the cheese and cranberry will stick.
Place a 1-inch square of cheese inside each cup.
Then add about 1 T cranberry sauce on top of the cheese.
Bake in a preheated 375°F oven till edges are a light brown, 10-15 minutes.
Cool a few minutes (but not completely) before removing from muffin tins.