Cranberry Bog Turkey Burgers
Lazarus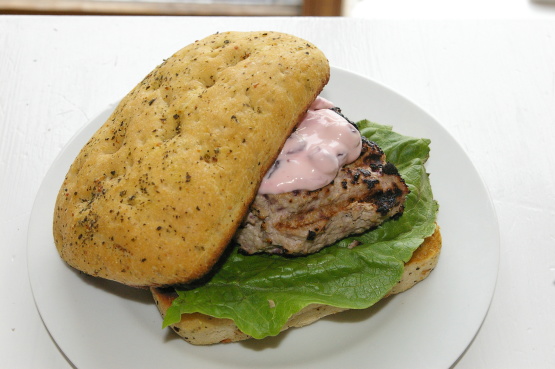 This recipe came from an episode of Rachel Ray's "30 minute meals" with a few personal changes. They are very easy to make on the George Foreman grill.

These burgers were excellent. I was initially skeptical, since I'm no friend of the cranberry, but I was pleasantly surprised by the richness of the sauce. There was a wonderful blend of different flavours and textures. We served the patties on toasted Focaccia loaves which worked extremely well. The only change I made to the recipe was a substitution of romain for bibb lettuce. This will definitely become part of our regular roatation for spring and summer. Made for PAC Spring '08
Preheat George Foreman grill or grill pan to medium high heat. Combine first seven incredients and form into 5 patties. If not using George Foreman, drizzle grill pan or brush grill with vegetable oil. Cook patties 5 to 6 minutes on each side. Microwave cranberries for topping with splenda and water in a covered dish for a 2 or 3 minutes on medium heat (until they have popped and the water has reduced. Cool mixture and stir into yogurt or mayonnaise.
Rachel Ray suggests serving burgers on sourdough english muffins but they are fine on any kind of bread or just plain!