Rita1652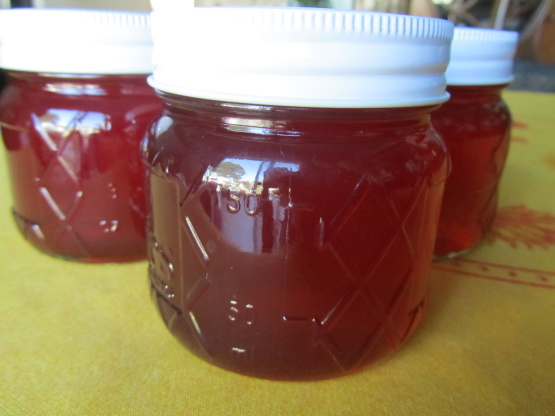 Cranberry jelly with hints of orange/ lemon from the bee balm/ monarda. This is a very easy tasty recipe. Nice for gift giving.
4

cups cranberry juice, not low calorie
1⁄4 cup lemon juice
1 3⁄4 ounces dry pectin
4 1⁄2 cups sugar
1⁄2 cup fresh picked bergamot petals, Bee balm, Wild Oswego Tea, Horsemint, Monarda
Heat 1/2 cup water pour over the bee balm and let steep 1 hour or over night in the refrigerator then strain.
Pour steeped bee balm, cranberry and lemon juices into a heavy pot. Whisk in the pectin to dissolve. Bring to a full rolling boil.over medium high heat. stirring frequently. Stir in sugar and return to a full rolling boil and boil hard for 1 minute.
Skim foam.
Pour into hot sterilized jars leaving 1/4 inch head space. Process in a boiling water bath 5 minutes. Remove jars and cool without moving in a draft free place.