Cranberry Banana Oat Bread
momaphet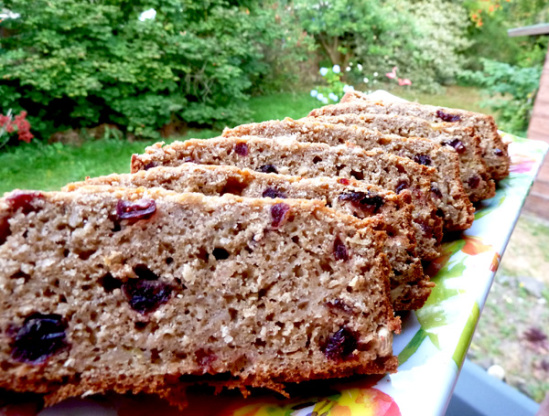 Open the oven door and the aroma of this fresh baked breakfast bread will have the entire house clamoring into the kitchen. Moist and dense in texture, the bread includes healthy ingredients, such as oats and fresh banana, and is easy to prepare and very adaptable, accommodating your choice of chopped nuts or dried fruit in place of the cranberries. Some people say you don't even need the sugar when the bananas are so sweet. Adapted from Whole Foods.

I enjoyed this bread with my coffee and looked forward to the treat. Love bananas, dried cranberries, and lemon flavors. Didnt have whole wheat flour on hand this time so used all white flour, 3 large bananas, canola oil, 1/4 cup sugar, and cranraisins. This recipes is a keeper and next time will use the whole wheat flour along with the all purpose. Made and reviewed for Family Picks during ZWT8.
Preheat oven to 350°F Lightly grease an 8 1/2-by-4 1/2-by-2 1/2-inch loaf pan with a small amount of margarine.
Whisk together flour, oats, baking powder and salt in a large bowl. Set aside. Whisk bananas, eggs and margarine together in a separate bowl. Add sugar, cranberries, and lemon juice; mix until blended. Gently stir the banana mixture into the flour mixture until just combined. Do not over mix the batter.
Pour the batter into the prepared loaf pan and bake until lightly browned, 45 to 50 minutes. Allow the bread to cool completely in the pan, about 1 hour. Turn the bread out onto a cutting board and, using a serrated bread knife, slice the bread into 3/4-inch thick pieces.
Arrange on a platter and serve. Enjoy!