Derf2440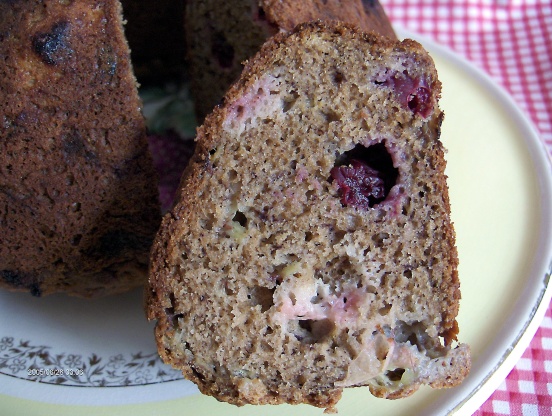 I have had a cranberry banana bread recipe for years that I thought I'd modify for my husband when I received some cranberries from my stepmother.

Very nice loaf, I used my bundt pan for it, worked out fine. I found the batter to be very dry and was afraid it would be dry cooked, so I added a half cup of milk which made it look more normal, it must have worked because it turned out delicious, we really loved the cranberries, nice tart taste. Good loaf, thanks for sharing!
Beat butter, Splenda and eggs together in a large bowl until smooth.
Add banana and cranberries and stir.
Sift remaining ingredients in a bowl.
Add to banana mixture.
Stir until just combined.
Spread into a greased loaf pan.
Bake at 350°F for about 50 minutes or until a toothpick inserted in the centre comes out clean.
Cool in pan for 10 minutes.
Remove to wire rack to cool.