Cranberry Baked Pancakes-Arsenic and Old Lace B&b Inn
BarbryT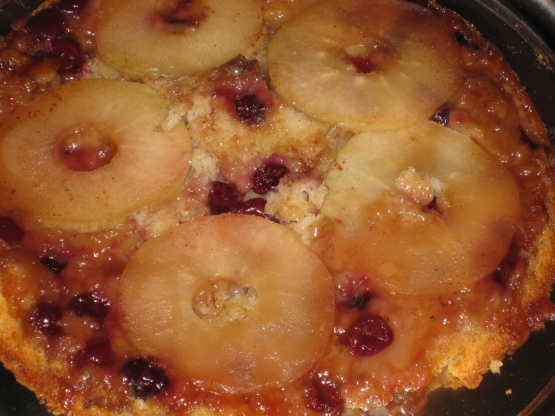 This is a very quick and simple breakfast dish but looks very impressive. The apples, cranberries, cinnamon and maple syrup are wonderful together. Toasted pecans would also be good sprinkled over the apple slices with the cranberries. Serve with with warm maple syrup or fresh apple butter. Recipe from Arsenic and Old Lace Bed & Breakfast Inn.

Simply wonderful and, indeed, simple (especially if one "cheats" and uses the "Organic Batter Blaster" one can buy in the refrigerated dairy section of my grocery store :-) ) It is tart from the apples and cranberries and sweet throughout. I recommend it very highly!
Heat oven to 350 degrees.
Prepare pancake mix according to package directions and set aside.
Pour melted butter in 9" pie plate. Place apple slices in bottom of pie plate; arrange cranberries on top of apples.
Sprinkle cinnamon and drizzle syrup over apples; carefully pour batter on top.
Bake at 350 degrees for 30-35 minutes or until top springs back when touched. Loosen edges and invert onto serving plate. Cut in wedges and serve with warm maple syrup or fresh apple butter.