Cranberry Applesauce - No Sugar Added
Derf2440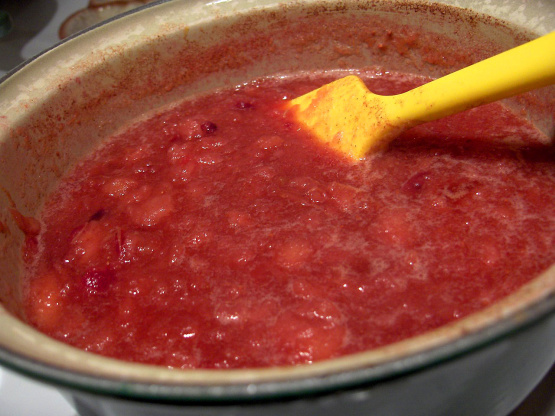 This is a vividly pink, wonderfully tart cranberry applesauce. Makes a great condiment for savory foods such as meat or potato pancakes, and also wonderful when eaten alone. It has no sugar added, thus it is VERY tart (which I love) - If you prefer a sweeter sauce, add 1/2 cup of sugar. I recommend using 1/2 sweet apples (I like Braeburn) and 1/2 tart apples (Granny Smith, for example).

We enjoyed this a lot, I added 1/4 cup of splenda while it was cooking. It was still a little tart but that's how we like it. Served over pork cutlets, a lovely match and will freeze in small amounts to use over pork and fish. Actually DH had it over his pork cutlet, I had it over my steamed Basa fish, it was very good over the fish! Thanks for posting it, I will make it again.
Cut apples into approximately 1 inch cubes.
Add all ingredients to pot, and turn heat on high. Bring to a boil, then cover and reduce heat to low. Simmer for 20 minutes or until the apples have softened significantly. Half way through simmering, you may add sugar or other sweetener if you desire.
Stir frequently, making sure that the apples are not sticking to the bottom of the pot. Add more liquid if necessary. Remove lemon slices.
Mash with a potato masher or use a food mill for a smoother consistency. Serve warm or at room temperature.