Suzie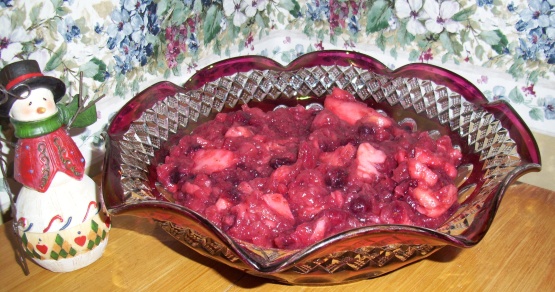 I got this recipe a good 20 years ago from a woman I worked with. I've been making it at holiday time ever since because, 1) the simmering spices make for a symphony of aroma that takes me back to my favorite spot in grandma's kitchen, and 2) with my arthritis, it's a simple, tart-y way for me to say, "you're special." Hope you enjoy the making, smelling and giving away..
Peel apples and cut in 16th's.
Place all ingredients EXCEPT cranberries in large pan; cover.
Bring to a boil; reduce heat and simmer for 10 minutes.
Add cranberries.
Simmer UNCOVERED 10 minutes.
With egg chopper, chop mixture to desired consistency, or not at all.