Cranberry Apple Pecan Bread Pudding With Vanilla Cream Sauce
2Bleu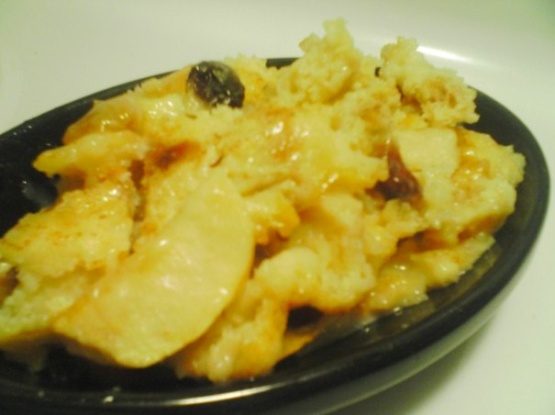 This makes a nice breakfast/brunch dish. The bread pudding itself is not overly sweet, but vanilla cream sauce adds a nice richness. From Morning Glories by Donna Leahy.

I used a pureed fruit sauce instead of apples and banana liquor rather than brandy. I also let the pudding soak overnight to let ingredients blend. I like proportion of wet to dry ingredients in this recipe. Most bread pudding/strata recipes call for too much liquid, in my opinion.
Pudding:.
in a medium bowl, toss sliced apples with lemon juice and set aside.
in a large bowl, beat the eggs till frothy and light in color. Add the sugar, vanilla, nutmeg and cinnamon and beat till smooth.
Stir in the butter, half and half and brandy.
Toss the apples, cranberries, pecans with the bread cubes.
Place the bread mixture in a greased 9x5 loaf pan (or individual custard cups). Pour the egg mixture evenly over the bread. Cover with foil and weigh down with a bag of rice or dried beans to encourage the bread to absorb the liquid. Refrigerate for 30-60 minutes.
Preheat oven to 325. Remove the foil and weights and place the pudding in a larger pan with 1 inch of hot water. Bake for 55 minutes or till set.
Increase oven temperature to 425 and bake 10 minutes more, till lightly browned. Serve warm with room temperature sauce.
Vanilla Cream Sauce:.
Combine milk (or cream) with flour and sugar in a saucepan. Add butter. Heat over medium high heat till it bubbles, stirring. Continue to heat gently till thickened. Stir in vanilla.