PaulaG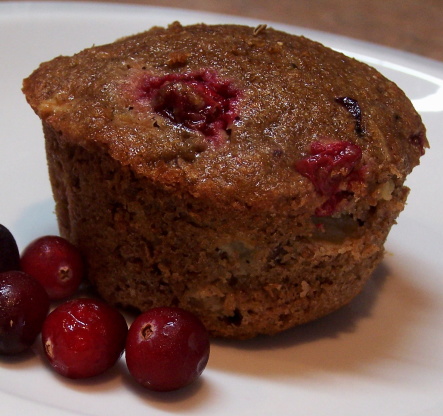 I haven't tried this recipe yet but I hope to soon!

I have NEVER been able to make muffins, seriously, they NEVER turn out. I tried this recipe, but used 1/4 cup margarine (instead of oil) and 3/4 cups homemade applesauce (instead of diced apples) and they turned out PERFECT!!!!
Heat oven to 350 degrees F. Grease muffin cups or use paper liners.
Mix flours, baking soda, cinnamon and salt in a large bowl.
Break eggs into another bowl. Add sugar and mix until smooth. Mix in oil and vanilla. Stir in apple, cranberries and walnuts. Pour over dry ingredients and mix just until moistened.
Scoop batter into muffin cups. Bake 20 to 25 minutes or until browned and firm to the touch. Let cool, and store 1 to 2 days in a plastic bag or airtight container for best flavor. Do not freeze.