2Bleu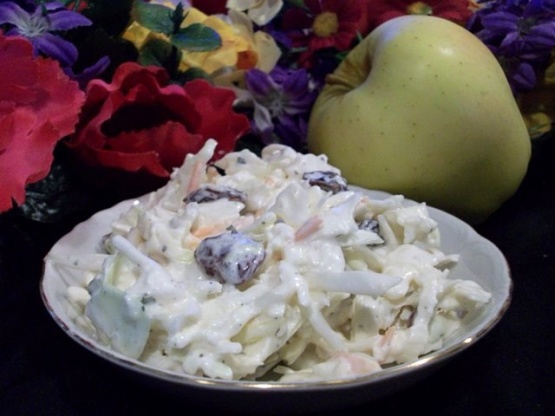 I adapted this from a recipe I found on here. I wanted to use up some apples and an open bag of leftover coleslaw. This recipe is simply delicious with some nice clean fall flavors. This is nothing like the creamy wet coleslaw you would get at a deli. Its light, crisp, and crunchy.

I loved the different textures in this coleslaw. I used craisins and did not toast the walnuts due to preference. It was so easy to toss together a few hours before dinner and was the nicest side to boring weeknight burgers. DS is usually not a slaw person but I noticed someone raided the leftovers in the fridge last night and I don't think it was the cat :) Thanks for sharing your recipe. *Made for PAC Spring 2010*
Thinly slice the apples into a small bowl.
Stir in two tablespoons of lemon juice onto the apple.
In a large bowl, combine the coleslaw, onion, celery, cranberries, and walnuts.
Stir in the apples.
In another small bowl, combine sour cream, mayo, sugar, salt, pepper, and remaining lemon juice.
Poor the wet ingredients onto the coleslaw mix and combine.
Serve chilled.