Cranberry Apple Casserole/Crisp
Whisper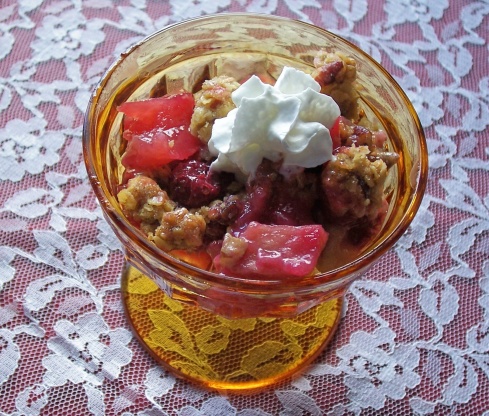 My husband loves this one so much he asked a neighbor for it! We eat it at Thanksgiving. Although the original recipe calls it a casserole, it tastes more like a crisp to me. It's very sweet and desserty.

Top Review by Sarah
I've made this twice in the last week and love it!
Preheat the oven to 350 degrees.
Mix the apples and the cranberries with 2 tbsp.
flour until coated.
Add 1 cup sugar and mix well.
Put it all in a 2 qt.
casserole.
Mix the oatmeal, rest of the flour, pecans, brown sugar, and melted butter together.
Spoon it over the fruit.
Bake uncovered at 350 for 45 minutes.