Cranberry, Apple, and Sweet Potato Packet
Pneuma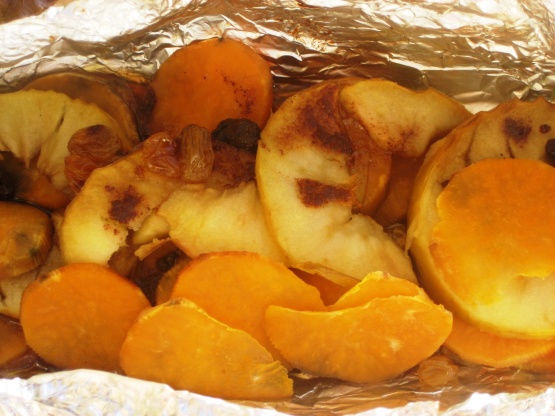 This is a great vegetable combination to accompany your fall and winter meals. It is baked in a foil packet which cuts down on the clean-up. The packet may be baked or grilled depending on the rest of your meal. When you open the packet, the burst of aroma you get will sweep you off your feet! Note that vegetables are grilled in a single packet; but when meat is involved, single serving packets are made. Recipe is from Reynolds. You will use 1 sheet (18 X24 inches) of Reynolds Wrap Heavy Duty Aluminum Foil.
Preheat oven to 450 degrees F. OR grill to medium-high.
Center sweet potatoes, apples and cranberries on the sheet of heavy-duty aluminum foil. Sprinkle with brown sugar. Combine butter and cinnamon; drizzle over brown sugar.
Bring up foil sides. Double fold top and ends to seal making one large foil packet, leaving room for heat circulation inside.
Bake 25-30 minutes on a cookie sheet in oven OR grill 20-25 minutes in covered grill until sweet potatoes are tender.