Cranberry and White Chocolate Scones
gailanng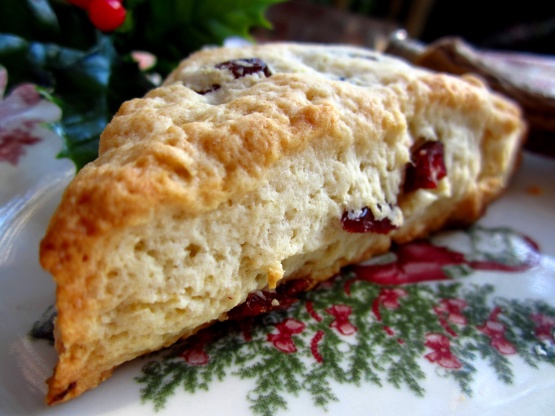 Washington State produces large numbers of cranberries. This delicious recipe featuring them is from the Inn at Barnum Point, Camano Island, Washington.

Top Review by ikotka
Delicious, moist, fast, and oh so easy! I used frozen cranberries which I had coated in a bit of flour and defrosted earlier in the day. The times are accurate too, it took me exactly 30 min's to prep, mix and bake.
There were a couple times when I thought for sure I had botched the recipe, the dough was too sticky making it difficult to knead it, but I kept on, and they turned out perfect.
Also I brushed the top with a powdered sugar glaze. But it really didn't need it.
Update: I've played around with this recipe and still love it! I've subbed blueberries, added wheat germ, used milk instead of 1/2 and 1/2 etc. Always delicious, moist, fluffy and full of flavor. No need to 'knead' for so long (since I've used juicy blueberries it just gets everywhere) just make sure to have it thoroughly mixed.
Preheat oven to 400 degrees F.
In a bowl by hand or using an electric mixer, blend together the flour, sugar, baking powder, salt, and butter.
Add the half and half, beaten egg, cranberries (I like the dried ones), and the white chocolate chips, and stir until the dough holds together.
Turn out onto a lightly floured board and knead for 2 minutes.
Form into a 1/2-inch thick round, then cut the round into 8 wedges (you can also make two smaller rounds of smaller wedges, if you like).
Spray a baking sheet with vegetable oil, then transfer the wedges to the sheet.
Bake the scones at 400 degrees F for 14 minutes or until golden brown.