Cranberry and Pecan Bircher Muesli (With Variation)
loof751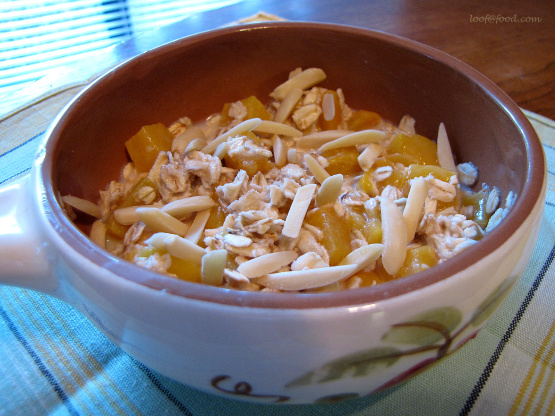 From Australian BH&G Diabetic Living. Must admit not a big fan of cranberries but will definately be trying the alternative of peaches and almonds (post at end of instructions). Overnight chilling time is cooking time. If you cannot get Fruche (it is in our dairy section with yoghurt desserts) I would suggest using a low fat or fat free vanilla yoghurt though Fruche is a set dessert.

Tasty and filling breakfast treat! I couldn't find fruche so I used vanilla yogurt, but only about a tablespoon because it's not as thick, and less milk for the same reason. I made the peach/almond version as you suggested and really liked the combination. Thanks for sharing the recipe!
Put the oats, milk and Fruche in a medium bowl and stir well and cover with plastic wrap and put in the fridge for 6 hours or overnight until most of the liquid has been absorbed.
Stir cranberries into the oat mixture.
Divide the muesli between bowls and top with the pecans to serve.
VARIATION - replace the cranberries with 140 grams tub of diced peaches in natural juice, drained and the pecans with slivered almonds.