Cranberry and Orange Streusel Cake
C.C619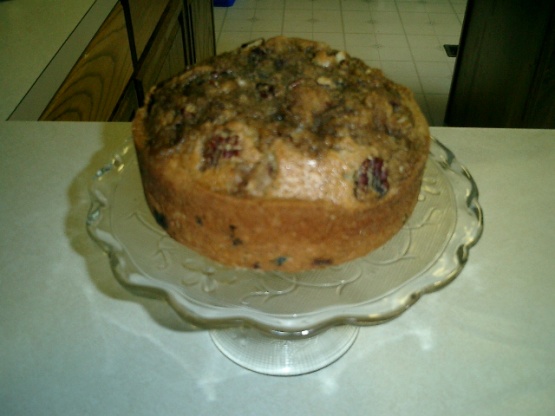 I found this recipe in a magazine and it hung about on my desk for ages, until I eventually got around to making it. Sweet, but not too sweet, it has become a firm favorite in this house.

Made this the other day, but with a major addition of orange flavor in that I included a tablespoon of orange zest in the batter ~ We do like the combo of cranberry & orange! [Tagged, made & reviewed as part of my theme ~ Let Them Eat Cake! ~ in the current My 3 Chefs event]
Preheat oven to 350 degrees F.
Grease a 9 inch square pan.
Make the struesel topping by combining the brown sugar, flour, nuts and butter together with a fork until crumbly. Set aside.
Stir together the flour, sugar, baking powder, baking soda and salt in a large bowl.
Add the melted butter, orange juice, boiling water and egg. Stir with a wooden spoon until combined.
Fold in the cranberries.
Pour into the prepared pan.
Sprinkle struesel over the cake batter.
Bake for about 45 minutes or until a cake tester inserted into the cake comes out clean.
The cake may be frozen and reheated at 350 degrees F for 10 minutes.